Jonesport Wood Co.
---
Real Estate - Store for Sale
Commercial retail store w/ (2) income apartments
Route 1 in downtown Searsport Maine
A National Register of Historic Places Landmark Building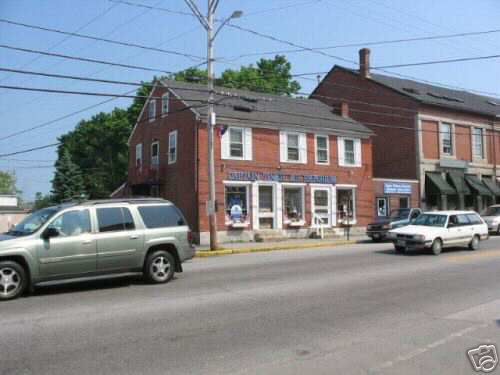 Captain Tinkham's started in April of 1995 and is part of the Jonesport Wood Co./Liberty Tool Co. group of stores. Buyer can receive discounts on inventory of 20%-30% at Liberty Tool, Banks Garage and the Hulls Cove Tool Barn on inventory purhcased for resale--except edge tools. We currently have 3 buyers with 2 trucks and we cover New England buying estate lots and old tools and we may be able to help you out locating inventory as we advertise along the coast of New England from Bar Harbor to Fall River.
Please note this building is a storefront with three entrances. The main entrance is on the right, the one story section under the blue sign with white lettering. Access to the apartments is on either side of the building via outside stairways. Distant ocean view.
Be your own boss in the antiques capital of Maine! Currently used as an antique store with (2) rental income apartments.
Circa 1820 brick storefront, formerly the Captain Parker residence (National Register of Historical Buildings). Located next to the busy Penobscot Marine Museum complex and art gallery. Partial bay views from the second floor apartment and the entire second floor could easily be converted to one spacious owner's loft or galleries. The ground level has three entrances - you could have three separate shops! On the National Register of Historic Places: tax credits available for certain building"rehabilitation."
The building is currently listed for $275,000 with inventory and $235,000 without. This is an investment opportunity too good to miss!
Captain Tinkham's has been in business for 20+ years and has hundreds of regular customers. This listing includes a large inventory of tools, antiques, books and art. A prospective buyer will be offered the opportunity to buy tools, antiques and other inventory at the other locations of Jonesport Wood Co. at a discount ranging from 15 - 30%. Please check with Skip for more details. Five tool stores is too many--please consider buying into the Liberty Tool Company.
Please call (207) 288-5126 or toll free (888) 405-2007 (leave message) or fax at (207) 288-2725 for details or to arrange a personal tour (ask for Skip). The shop phone is (207) 323-9632, please do not call the shop number except between 9 - 5.
Item Specifics - Commercial Real Estate
Type: Retail, free standing building, corner lot
Building size: 50 x 44 feet, 2 1/2 stories
Sq. Footage (Sq. ft.): -- retail space 2,200 sq. feet
Zoning: Commercial
Property Address: 34 Main St, Searsport, Maine 04974
Year Built: 1820 or earlier
Lot Size (acres): 0.08 acres
Heating systems: one oil furnace serves the whole building, supplemented by brand new energy efficient gas furnaces in each apartment. The apartment on the east side also has a supplementary electric baseboard system.
Utilities: Town water and sewer
Condition: The building is tight with good storm windows - all the building roof has been replaced. All areas of the outside trim and inside apartments have been recently repainted. New flooring and kitchen appliances have been added.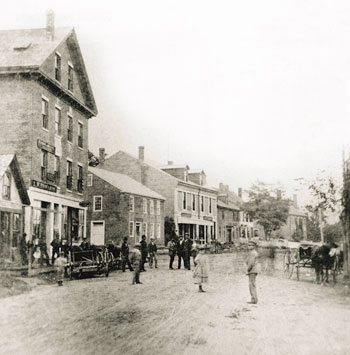 Searsport main street, picturing the building Captain Tinkham's now occupies. Image courtesy of Penobscot Marine Museum.

For more interior pictures see the photo tour.
---