Click here to go to JP Wood Home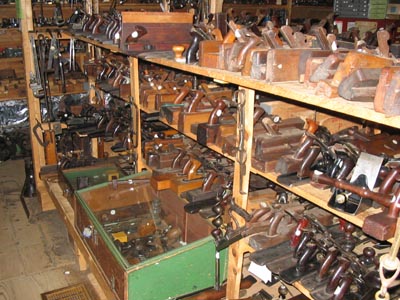 Click Here for Photo Tour!
The Davistown Museum has erected an historical marker outside the Tool Barn
Click here for photos of tools being cleaned and loaded to go to Liberty

Popular Woodworking Magazine: A Visit to the Famous Maine Tool Barn
Best of New England: Hulls Cove Tool Barn
Read a review of the Hulls Cove Tool Barn by Ted Monk of Woodworker's Guide
17 Breakneck Rd, PO Box 144, Hulls Cove ME 04644
or for GPS use 17 Breakneck Rd, Bar Harbor ME 04609
(207) 288-5126
Fax (207) 288-2725
email: jwood@jonesport-wood.com
Hours:
Jonesport Wood company is reopening for the COVID-19 season--masks and gloves required. Maximum 5 people per store at a time.

The Hulls Cove Tool Barn is open every day, 10:30 AM - 4:00 PM.
If you have tools to sell in Hulls Cove, Call Skip and leave message at 288-5126, fax 288-2725, or leave a message with our answering service at 1-888-405-2007.
THE TOOL BARN WILL BE CLOSED TUESDAY, SEPTEMBER 22nd AND TUESDAY, SEPTEMBER 29th.

Store closes for inclement weather and extreme cold--call ahead if you're not sure!
Visitors to the Hulls Cove Tool Barn: Camp site available for 2 nights max for tool customers. Call Skip at 207-288-5126 (except Saturday July 27th and August 10th). $12 per person.
There is often someone working at the Barn and the owners live next door, so call or stop by to arrange a visit if you want to shop at the Tool Barn and can't get there when it's officially open.

DIRECTIONS:
The Hulls Cove Tool Barn can be difficult to find for first time visitors to Mount Desert Island. For visitors coming long distances, take Rt. 3 from Augusta (I-95) all the way to Hulls Cove or take Rt. 1A from Bangor (I-395) to Ellsworth and pick up Rt. 3. When driving onto Mt. Desert Island, be sure to bear left following Rt. 3 at the fork just beyond the Thompson Island Information Center. A gas and convenience store is in the center of the fork. (Otherwise you could get thoroughly lost in the wilds of Mount Desert Island). Hulls Cove is just before the main entrance to Acadia National Park on Route 3, three miles north of (before) Bar Harbor and 16 miles south of (beyond) Ellsworth.
As you enter Hulls Cove you will see on your left the ocean and the Chart Room Restaurant. On your right will be the Hulls Cove General Store, gas station, and Post Office. Turn right at the gas station sign. After the pumps, the Breakneck Road goes diagonally up a small rise. Look for the large wooden sign for the Tool Barn and Davistown Museum. You will notice the Sculpture Gardens on your left and the red farmhouse on your right at the top of the rise. The Tool Barn is located just past the house.
If you pass the turn, you will reach the Acadia National Park Entrance where you can do a u-turn.
GPS USERS, PLEASE NOTE: You must enter "Bar Harbor 04609" instead of "Hulls Cove 04644" to get correct directions here!



DESCRIPTION:
The Hulls Cove Tool Barn is located on the second floor of the barn on the Hulls Cove property. The lower sections of the barn include shipping and receiving for all stores, a pricing room, an oiling room, tool cleaning room and three parts departments. Adjoining the barn is our repair shop, and a large greenhouse where we grow our tomatoes and flowers. The Tool Barn itself, the smallest of our three stores, also contains the most extensive selection of old woodworking hand tools of any of our stores. We offer a selection of several hundred hand planes, Stanley tools of all kinds as well as other collectible and/or patent-dated tools. We also maintain an interesting selection of antiquarian items (books, ephemera, crocks, lanterns, primitives, postcards, etc.) at this location. Due to space limitations, all power tools, contemporary items and used furniture are sold at the Liberty store.
Also located at the Hulls Cove property is the office, reference library and sculpture garden of The Davistown Museum.